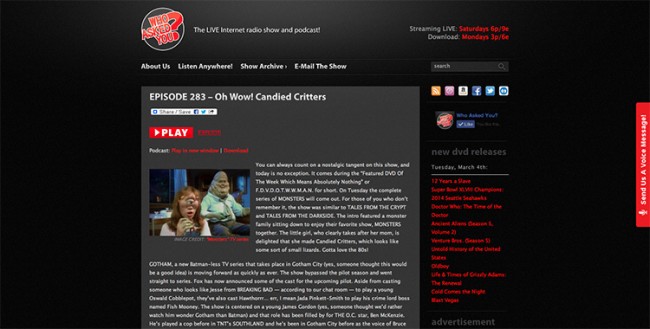 This past Saturday we unveiled an all-new website for the Who Asked You? show. Our previous design served us well, to say the least. We stuck with it for over four years. It underwent a slight color scheme facelift for our 5th anniversary show, but even though it worked for our purposes, screens have gotten bigger making it look more narrow and wasting a lot of space, Google has gotten more picky with SEO and it was becoming harder and harder to find banners and widgets that fit in the old-school sidebar width that nobody uses anymore, so it was time for a change.
The new design is much simpler. My goal there was to please the search engines with a fast loading, cleaned up site with fewer images to call up. One of the first things you'll notice is we've returned to a color scheme similar to what we started out with. Our original, hand-coded HTML site was black, gray, blue and red. That was followed by the WordPress site that was black, gray, darker gray and white. I facelifted that one and made it much lighter; bright blues, light grays and whites. Well, as you can see we're back to our dark origins. I think it suits the feel of the show anyway. We get pretty demented. We're now down to one sidebar that is much wider and more widget and ad banner-friendly. You'll also see six icons at the top for the most important links including Amazon and our social media pages.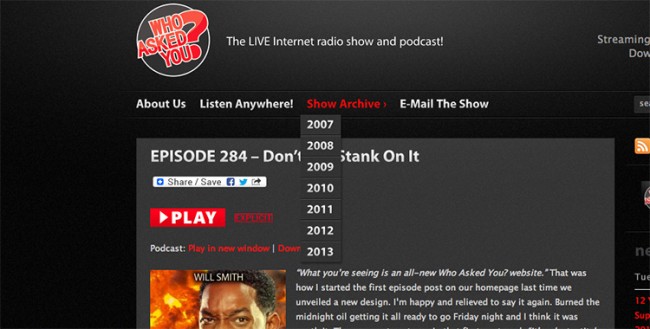 One of the biggest changes you'll see is in the Show Archive. It's now divided up by year and you can jump to any of them from a drop-down menu. Before, the Show Archive page was one loooooooooooong page containing every single episode with its blog post. This, will also help cut down on page load time but more importantly, it makes it easier for listeners to browse around the archives and find the oldies they're looking for.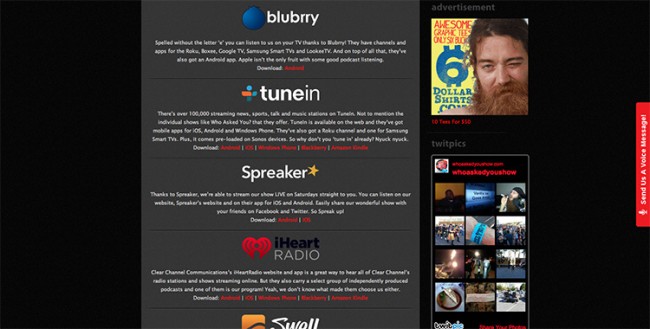 If you listen to the show regularly, you know that we have pretty good distribution. We're on so many apps and streaming services I had to put them all on their own page. The "Listen Anywhere" sidebar box has now become the "Listen Anywhere!" page. Not only can you access our show's profile pages (where available) by clicking on the logos, but you can also easily access the app stores for ALL the devices these apps are available on using the links listed.
So that's it… the new Who Asked You? website. I hope you like it, if not, too bad because we're probably gonna ride this design out for a few years and get some good mileage out of it.