It got a little crazy there for a few weeks, but now that things have settled down I can talk about what's been going on with the podcast. On July 11th, after six-and-a-half years, we celebrated our 300th Who Asked You? episode! We did our usual free-for-all. And we did our usual shots at the start and end of the show — the first of which went down the wrong pipe. Nothing like coughing up a lung live on-the-air.
I made a few changes to the show's website to coincide with the milestone. They were fairly subtle. The social icons in the sidebar got a slightly new look and a new social button got quietly added. Shhh… our Google+ page was a 'silent launch' as I continue to populate it with content. Although it's a cleaner, less buggy and more modern interface than Facebook, my energy level for trying to build a community on yet another social media platform is virtually non-existent. Besides, there's no correlation between a social following and the size of your show's audience. With that said, if you're interested in circling us, or whatever they call it on Google+, click here.
The show's logo also got a slight update. It now features a black border to help it stand out better on lighter backgrounds and the glassy sheen is not only flipped the other way, it's more apparent making the logo look shinier. Ooooooo!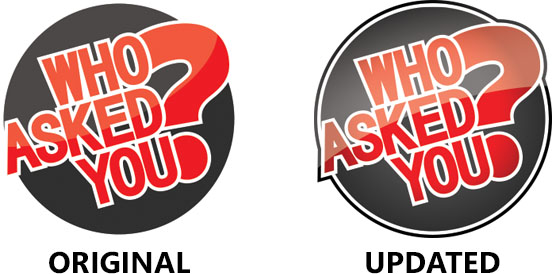 As part of our 300th show, I released a number of photos taken of us by my good friend Jim of Jim Swinson Photography. The images were taken while we recorded the 299th show. I realized there were hardly any pictures of us actually doing the show and thought it might be nice to finally give folks a little peek behind the scenes. You can find the pictures on our Facebook page or on TwitPic.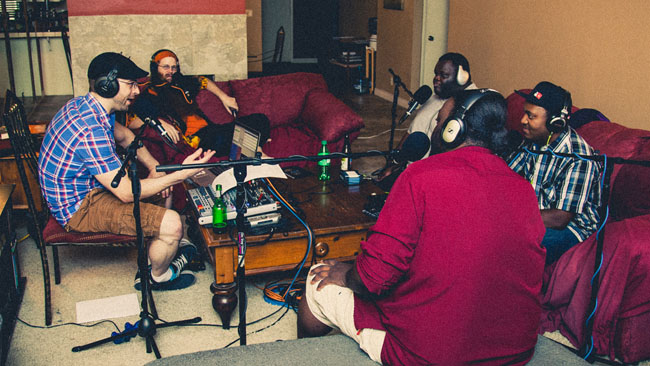 We debuted a new theme song and show intro on the 300th as well. We had used the previous theme for over two years and it felt like a good time to refresh our sound. The new music is great as it includes a number of additional cuts and variations making it more versatile with editing. I think it'll keep a little longer as the melody is not nearly as repetitive as the old theme.
Along with the new music came a new announcer. We'd been using the previous voice over guy since the show started in 2007. Not being a big fan of change, I debated for quite some time finding someone else. After all, he'd always been the voice of Who Asked You?… besides us of course. In the end, I felt it was the right choice to do so. Since our original announcer had a deeper voice and used a snarky tone, I decided this time, the voice track should sound more casual and lighthearted.
The show's intro is arranged a little differently too. Before, there was a different open each week featuring funny drops from movies, TV shows and viral videos online. As you can imagine, that was very labor intensive. I wanted to cut down on the workload with some parts of the show (like the intro) as it's increasing with other parts (more on that next). So the open will change once a month now instead of every week.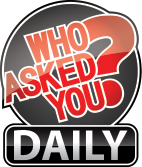 The additional work is coming from the production of Who Asked You? DAILY, our new daily highlight podcast featuring short two to three minute clips from each week's episode released in the morning Monday through Friday. DAILY is strictly a promotional tool. There's a growing interest in short form content. Stitcher Radio has launched a 'Short Attention Span' section under the New & Noteworthy category. The Omny Personal Radio app based out of Australia specializes in running short podcasts and highlights intermixed with your own music collection to create a sort of personal radio station. And iHeartRadio has a section of their site and app called 'The Daily Pulse' which features highlights from late night talk shows, cable news programs and other shows from around the country. In fact, the original intent of doing Who Asked You? DAILY was to get included in iHeart's Daily Pulse, however plans changed and we're told expansion of the Daily Pulse section is on hold. But that's okay, it's still available on iHeartRadio in the normal Talk section.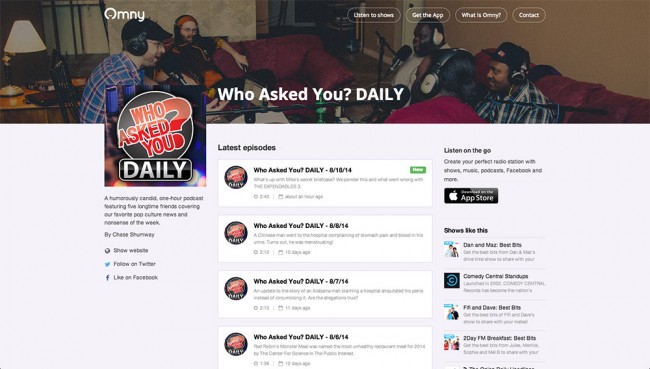 And it's on plenty of other services too. If you can only handle us in small doses, look for it on Omny for iOS, Spreaker and SoundCloud. You can also check it out on a special Tumblr site I've set up as well.
We've also got some new segments in the works which we'll be rolling out on the show over the coming weeks (maybe months), depending on how quickly I can get them organized and produced as I'm also currently trying to write another episode of THE MYSTERY FILES, our old time radio drama we plan to do every year for Halloween. Last year's seemed to be well received, and we had a blast doing it too. More on that and the new segments another time. Stay tuned!